Missouri State Fair Draft Horse Show
Sedalia, MO
The weather for the MO State Fair turned out almost perfect this year. It wasn't too hot even though it poured rain for a bit on Friday night. The hitch classes went FAST on Friday night due to the Gypsy horses not filling as many classes as anticipated. Saturday went quick as well but was still fun. Tyler and I pulled a win in the feed team race with the girls. There was a much larger crowd since we showed at the beginning of the evening rather than the end like we have in the past. Sunday was a little warmer but everything still went well. Doyle pulled a win in the farm team class and Grandpa was able to keep his winning trophy from the obstacle course for another year. The mules prevailed in all the farm team classes this year, but who is surprised 😉
Cassie Cronin
Secretary/Treasurer
Missouri Draft Horse & Mule Association, Inc.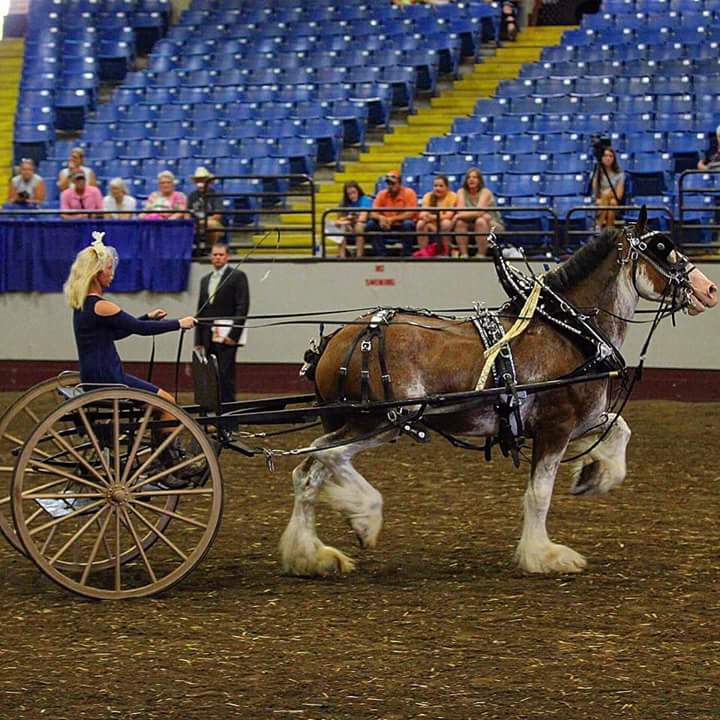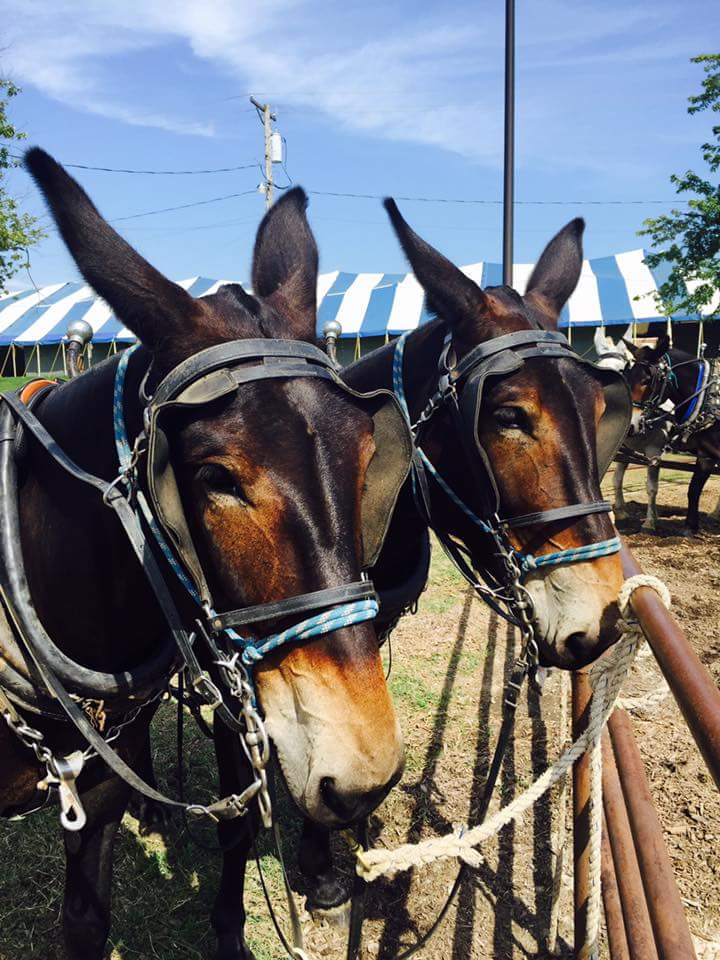 2017 Route 66 Plowing at the Hangar Kafe
So it was everyone's first time to plow in Miller, MO at the Hanger Kafe;  We had a wonderful time and the ground plowed well once we found a spot dry enough to plow!  They had 2″ of rain Friday morning and there was concern that we would not be able to plow.  However it had dried up just enough on the hill that once we made it through the small valley we were good to go!..  There was plenty of ground to plow and I think that we surprised them with the amount of ground that we turned during the weekend. There were lots of spectators but everyone was very respectable to our activities and the horses.  Found out that skydivers and small air planes are more amusing than scary to the horses…  great weekend and we are hoping to make it an annual event.  As this is a great weekend to celebrate Cassie's Birthday!  Thanks Terri for baking that wonderful cake!
Robyn Holtgrewe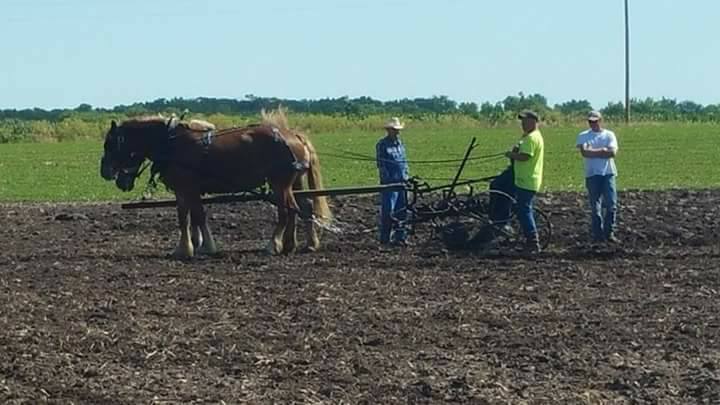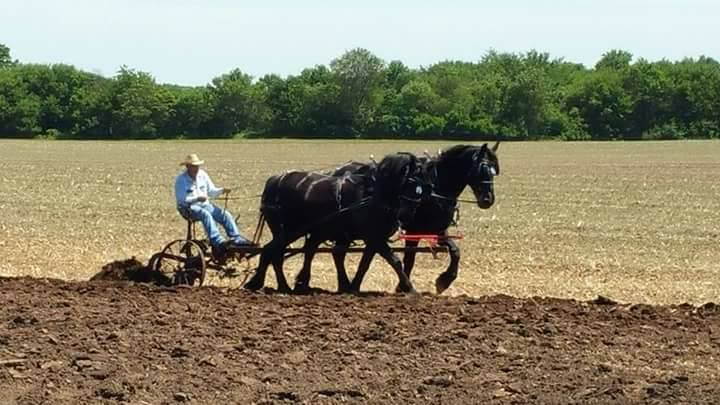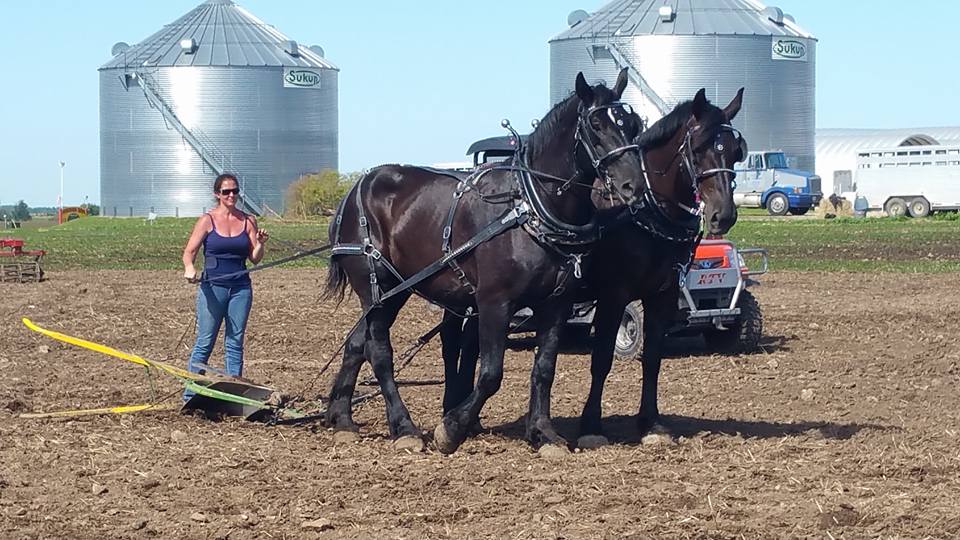 Adams Mow Day 2017
Hamilton, MO
Although we personally couldn't make this one it looks like everyone who did had an excellent time!  There were many teamsters and lots of horses and from what I hear the entire event was a success.  I was told that the grass mowed easy and despite the heat there was a great breeze all day.  Get this event on your calendar for next year!  Thanks to Bruce and Jean Adams for all of the effort that they put in to organizing this event.
Hosted and sponsored at the NORTHWEST MISSOURI STEAM AND GAS ENGINE ASSOCIATION grounds.
Robyn Holtgrewe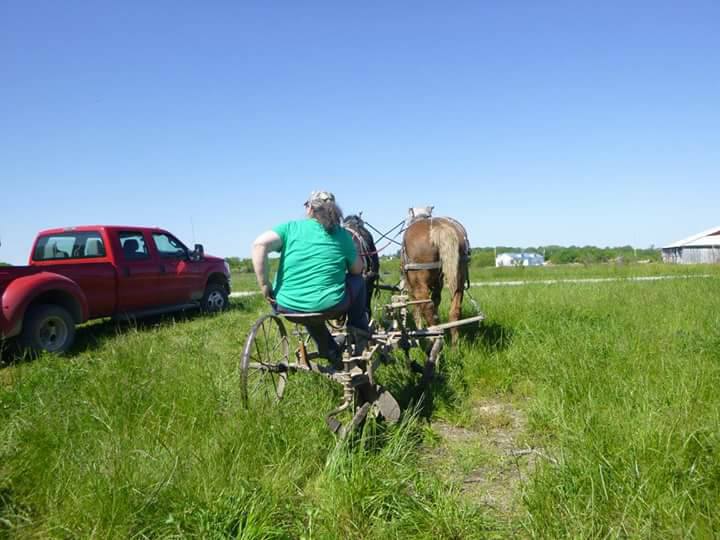 2017 Bristle Ridge Plowing
Despite the 10+ inches of rain that fell all over Missouri the weeks leading up to Neal's plowing the weather and ground were amazing!  Friends came from as far as Nebraska, Iowa and Illinois and we even had some new participants this year.   A lot of plowing was done and fun was had by all.  The food was Amazing especially Dusty's BBQ.  It is wonderful to belong to a group where everyone helps each other with new plows, hitch configurations, horses and whatever else is needed and there was a lot of trying new things going on this weekend.  Can't wait till the next one!
Robyn Holtgrewe
2017 Spud's Memorial Plowing
We had a wonderful first plowing of the Year at Tom Eldridge's farm in Greenview, IL!!  We were all a little concerned about the amount of rain that we received the week before but aside from parking challenges the ground plowed GREAT!  It is always a great time visiting with friends from Missouri and those we don't get to see too often who live in Illinois.  It sounded like the entire Missouri crew made the travel with no incident – not even a flat tire!   The food was amazing as usual thanks to Lori's amazing abilities and the horses enjoyed the wonderful alfalfa hay provided by Tom.  If you went home hungry or didn't get enough plowing in, it was your own fault!
Robyn Holtgrewe