Annual Meeting at Cunningham's Barn Feb. 17th, 2018 at 10am
8202 S Bennett Dr, Columbia, MO 65201,  Please join us for our annual gathering to handle a bit of club business, lots of amazing food (you will find this at most events also) great conversation, get to know other draft horse and mule enthusiasts, and maybe find that one item that you can't live without! Carry in Lunch with Meat provided by the club. Fundraising Auction of donations Raffles, Officer Elections and Nominations, Door Prizes, We will have T-shirts and Hats available for purchase.
To educate, organize and promote the use of draft animals for farming, education and recreation.
Hope you don't have any issues finding us!
Remember Health Certificates if traveling out of State.
Calendar has been updated! 1/8/2017  Please note some events are still out for conformation and they are just carried over from last year. Please let me know if you have any changes or additions.
Thanks
Robyn H
Home
Boone County Steam Show
Booneville, MO
Well the weather was much better this year!  No rain the week before so there were not the mud issues to contend with this year. Plowing, Parades, games and tractors everyone had a great time!
Missouri Draft Horse & Mule Association, Inc.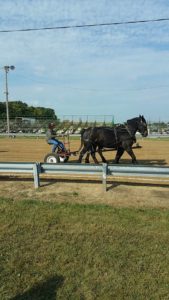 2017 Fairgrove MO
Fairgrove Heritage Reunion Sept 22-24. All I can say is WOW what a show! For years we (MDHMA) have been asked to join in their celebration but, that date had been ear marked for the cornhusking championship in Marshall, MO. (Due to the MO State & then the National Cornhusking, this year the date was changed to October 20-21st.) What they say about the traffic is not an exaggeration, when you get off of Hwy 65 South to Hwy 125 East be prepared to stop for at least 10 minutes. The whole town is hopping; it is shut down to moving traffic. This is only a park & walk affair. Loads of vendors crafting, eating, entertainment, wall to wall parking, people & fun. This is a MUST ATTEND AFFAIR! We visited with Bob & Holly Fortner & Mike Rookstool who were also part of the show. Good job guys!! Our son Fred's foster son Andrew caught a greased pig which he got to keep. Wyatt Holtgrewe also grabbed the greased pig; however, he sold his pig back to the pig master for a gold dollar (I would of given him $20.00). Horse games were played by Rod Malchow, Cassie Cronin, Dave Eichman, Shelby, Art, Robyn Holtgrewe & also me. We also gave a demonstration baling hay after being threshed by another group. We all retired Friday & Saturday night at Rod & Lori Malchow's in Urbana, MO. Tammy graciously fed the whole gang at her house which is just around the corner from Highway 65. Boy was that a foundering experience d e l i c i o u s!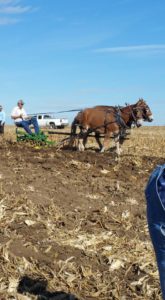 2017 Doyle Prawl Plowing
On Sept 30-31, Doyle Prawl had his first plowing event - 10 teams were in attendance & if you were hungry it was because you were either shy or talking way after the food was put away! We had a really good time and can't wait to see what next year will bring.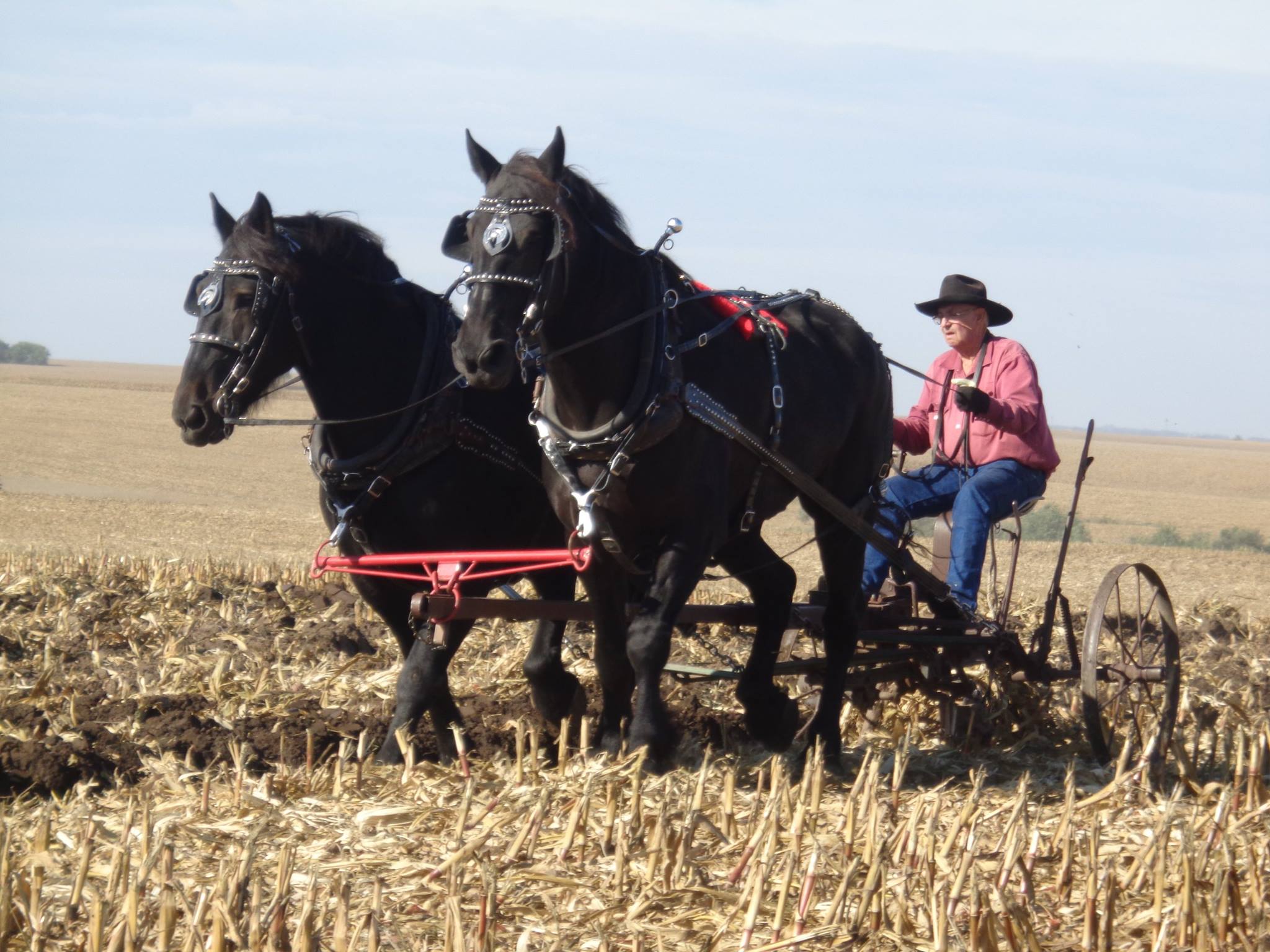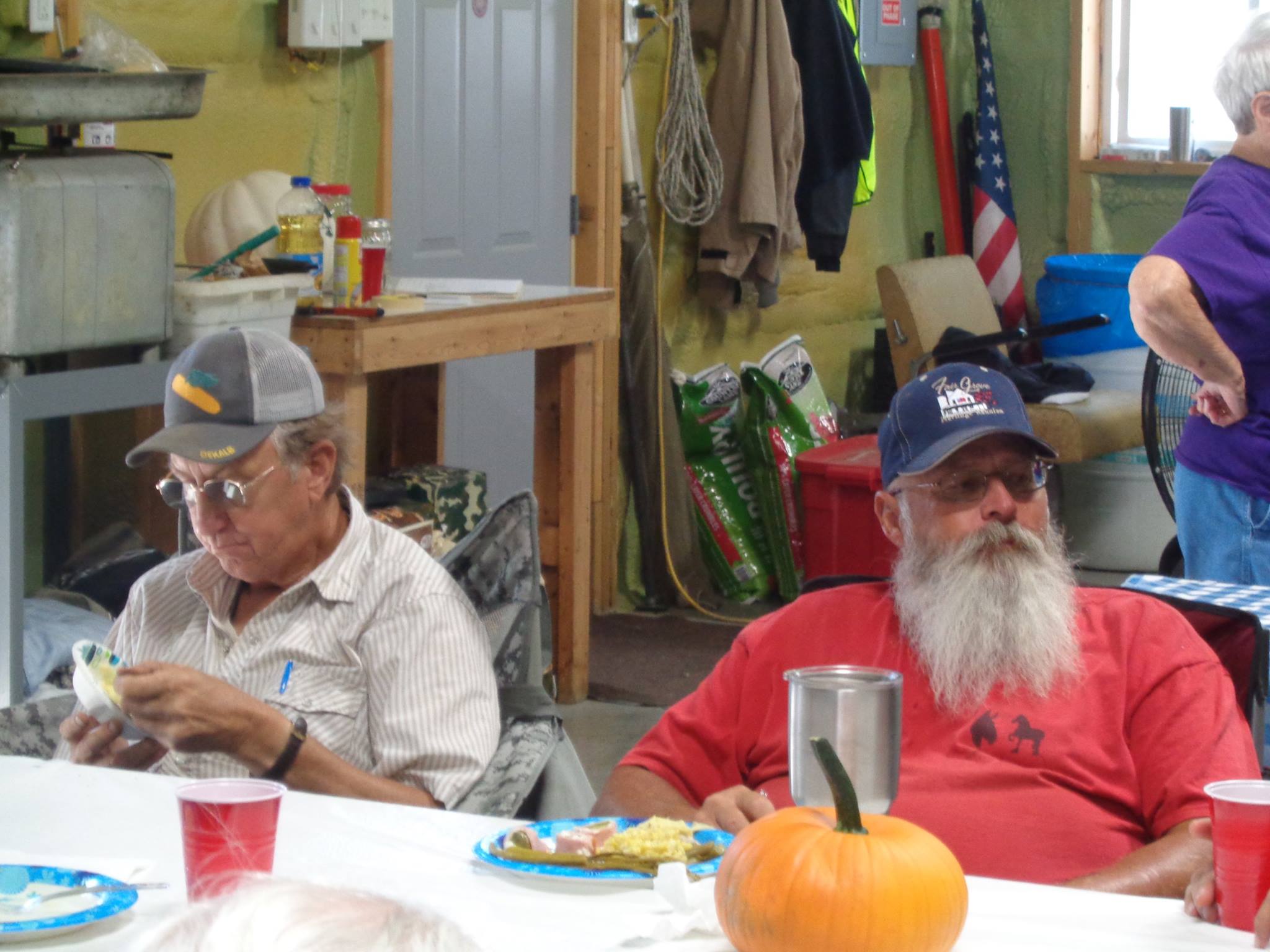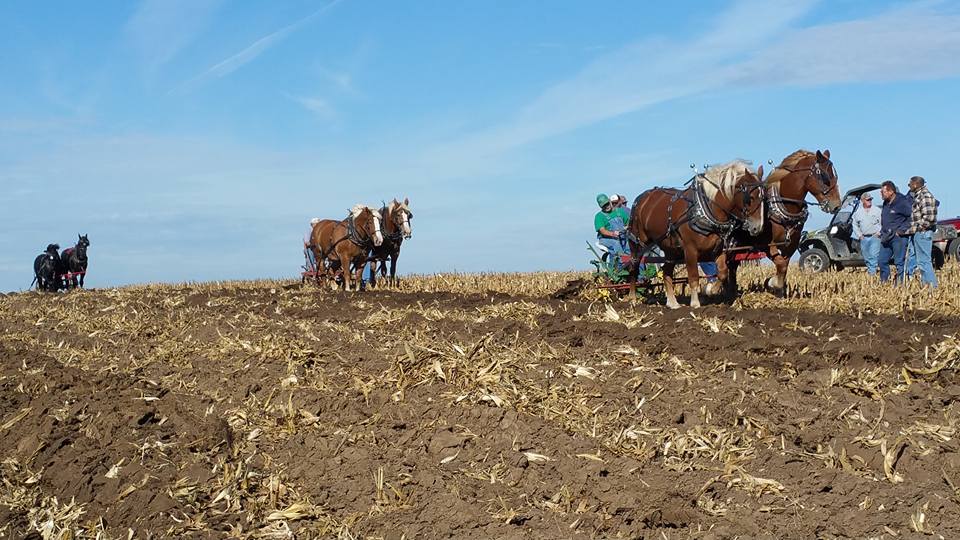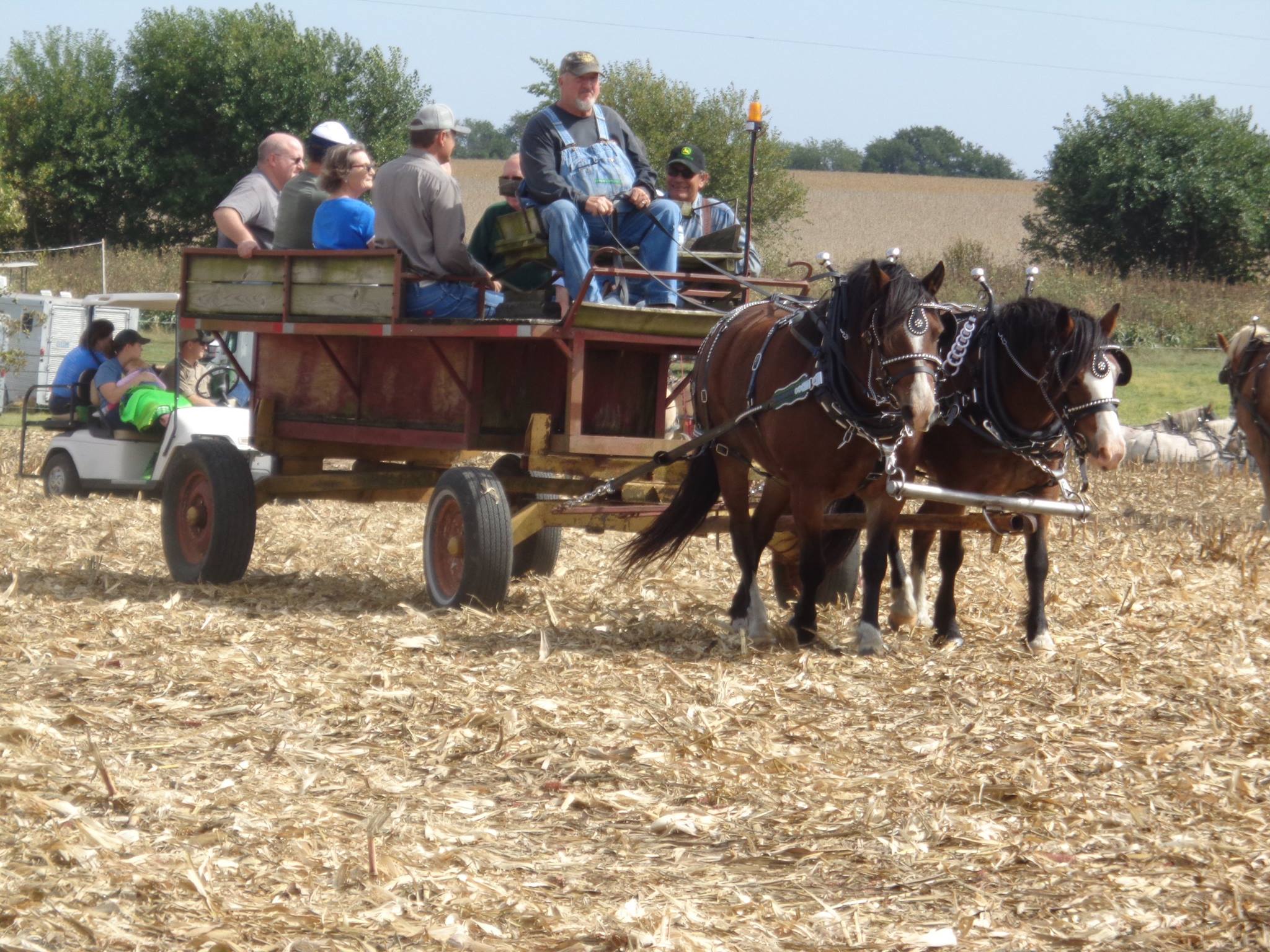 21st Mid-Mo Horse, Mule, Ox and Historical Craft Fair
From Witness Tree Land & Livestock: As we all know, the weather in Missouri is anything but consistent, and is always a wild card for any outdoor activity. This held true for our event on Oct. 7 & 8. For only the second time in two decades, we got rained on.....but only for three hours on Saturday. The day started well, however, though on the windy side. Good crowd, all going mostly according to plan, and then rain came at around noon. It lasted until close to three, and then the sun came out and it was beautiful the rest of the day. Sunday was picture-perfect.  Sorry Gail I couldn't find pictures of across the creek where there were so many other activities.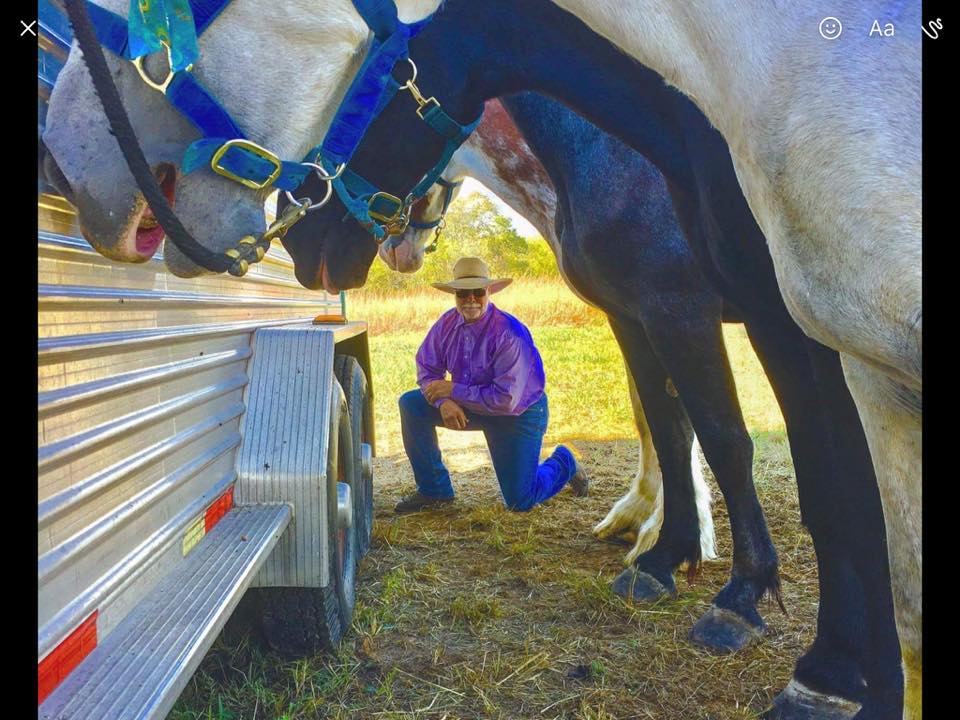 2017 Corn Husking
Marshall, MO
Oct. 18-20 The Cornhusking competition both State & Nationals looking forward to yet another year in the field with others who have participated for over 25 years. MO is one of the few states that continue to use horses in the field which makes for a long day. It is exciting to see all of the familiar faces that are either out in the field participating for the championship or the teamsters that you see 1 time a year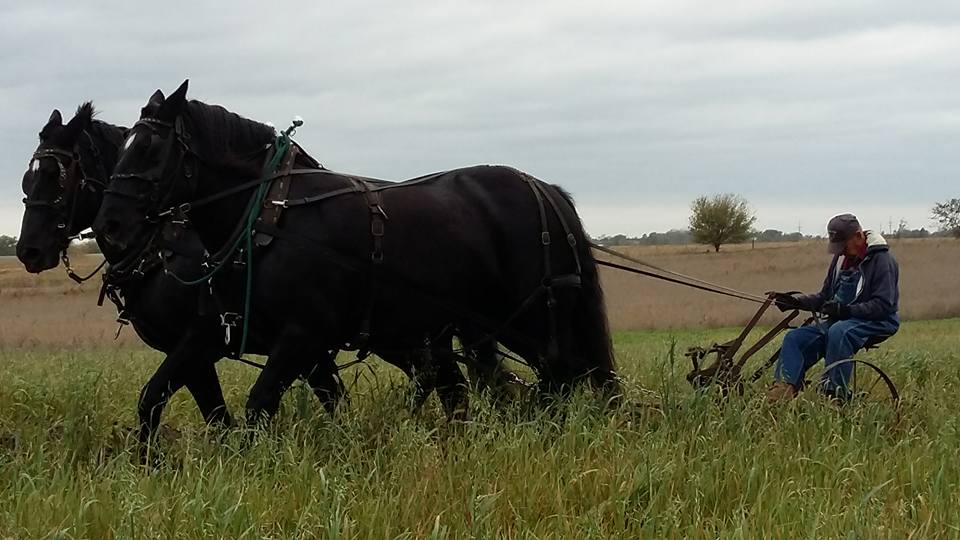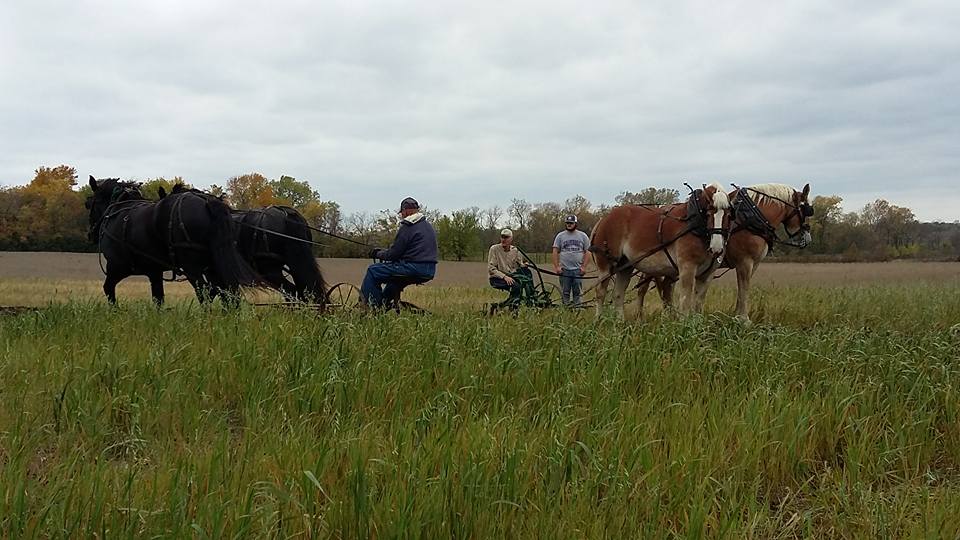 2017 Farming With Horses
Neosho, MO
Oct 20, Scott Moorehouse hosted his field day again this year and a great time was had by all in attendance. Activities include Thrashing spelt, bailing straw, Horse drawn wagon rides, Horses raking and puting up loose hay in a barn, horses plowing, disking and if time drilling spelts, Blacksmith and more activities. Music. Beans and corn bread available. BRING A CHAIR, A FRIEND, A CAMERA, TAKE A RIDE IN A WAGON AND HAVE FUN